Governor Perry, please abstain from running
Why Texas Governor Rick Perry should "just say no" to his urge to run for president.
By Shawn Lawrence Otto | May 30, 2011 | Comments (0)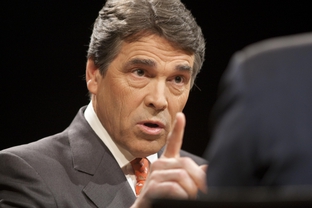 Texas Governor Rick Perry is toying with a run for president.  He may be an excellent choice for a GOP that is retreating into unreason, but he would be bad for America because Perry makes governing decisions based on his own personal version of reality, even when it is contradicted by the facts. 
Consider Texas's approach to sex ed. A few years back, Texas lawmakers cut sex ed from two six-month courses to a single unit of "abstinence only" education.
According to a report (pdf) on the program, 94 percent of Texas schools, which at the time were educating more than 3.7 million students, were giving no sex ed whatsoever beyond "abstinence only," a curriculum that includes emphasizing that birth control doesn't work. Another 2.3 percent of schools had no sex education at all, and 3.6 percent had "abstinence-plus."
Instead of providing fact-based information about birth control and pregnancy prevention, the programs use fear and Jesus - heavily emphasizing the risks of sexually transmitted diseases leading to cervical cancer, radical hysterectomy, and death—which in reality are very, very small—together with Christian morality.
One Texas public school district's handout is entitled "Things to Look for in a Mate:"
I. How they relate to God
A. Is Jesus their first love?
B. Trying to impress people or serve God?
Another public school district uses this:
Question: "What does the Bible say about sex before marriage/premarital sex?"
Answer: Along with all other kinds of sexual immorality, sex before marriage/premarital sex is repeatedly condemned in Scripture (Acts 15:20; Romans 1:29; 1 Corinthians 5:1; 6:13,18; 7:2; 10:8; 2 Corinthians 12:21; Galatians 5:19; Ephesians 5:3; Colossians 3:5; 1 Thessalonians 4:3; Jude 7).
The results? Teen pregnancy in Texas went up. It was higher than it had been before the "abstinence only" movement, and the Texas teen birth rate was more than 50 percent higher than the national average. Even more troubling than this dismal failure was that repeat teen pregnancy also went up. It turns out that Texas kids thought that "if birth control doesn't work, why use it?"
One can't argue with their logic. The religious activist proponents of the abstinence-only approach convinced state education and school officials that, contrary to scientific findings, further information about birth control and sex should be taught by parents, according to their morality, in the privacy of their own homes. The thought of teachers talking with their kids about sex made them queasy.
But the problem, Austin energy expert Michael Webber told me, is that those same parents are often too bashful to bring the topic up with their kids at all, and if they do, they often use euphemisms. One girl Webber told me he knew of didn't understand how she had gotten pregnant because she and the boy hadn't actually slept together after having sex.
It's also extremely tough for teenagers to get contraceptives in Texas. "If you are a kid, even in college, if it's state-funded you have to have parental consent," said Susan Tortolero, director of the Prevention Research Center at the University of Texas in Houston.
But none of this seems to matter to Rick Perry. "Abstinence works," Perry said during an October 15, 2010 televised interview with Texas Tribune reporter Evan Smith.
The audience laughed and Smith pointed out the state's abysmal teen pregnancy rate.  "It works," insisted Perry.  "Maybe it's the way it's being taught, or the way it's being applied out there, but the fact of the matter is it is the best form of – uh – to teach our children."  Smith asked for a statistic to suggest it works, and Perry replied that "I'm just going to tell you from my own personal life, abstinence works."
Governor Perry, please abstain from running.
---
Tags:
Republicans
,
Antiscience
,
Religion
,
Faith-based